Workshop background and testimonials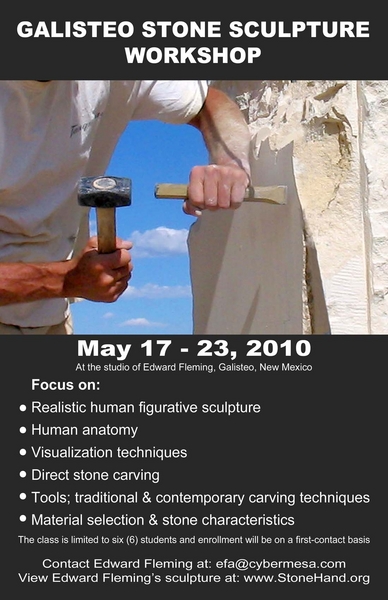 Testamonials:
From Dr. Joseph Sacamano, Mosier, OR:
"It seems that I have been in school for most of my life. In addition, I have taken a yearly workshop in photography or one of the other arts annually over the past 20 years. Even in this context, I found Ted Fleming's Galisteo sculpture gathering to be one of most pleasant and educational workshops I have ever experienced. I couldn't have anticipated how stimulating, meaningful and downright fun a week of guided stonecarving would be. Ted managed a wonderful balance between personal attention and letting us problem-solve on our own. Daily, he saved individual time with each of us to explain technique or artistic principles. I came to look forward to our communal lunch (and often, dinner) conversations when he and our small group of participants shared ideas and methods. He postponed his personal work, opened his studio to us and spent the entire week as both teacher and friend. All of this took place in a sheltered outdoor studio location surrounded by examples of his beautiful work which became powerful sources of inspiration for me. I want to attend again next year."
From Carl Berny, Pojoaque, NM:

"I attended Ted Fleming's workshop in the spring of 2010 to learn more about carving the human figure - and learn I did. Ted's knowledge of anatomy showed the importance of the bulges and dimples caused by intersecting muscles, protrusions of the skeleton near the surface and their proper location, all lead to a more realistic representation of the human form. He encouraged me to focus on the location of the underlying skeleton and muscles in my maquette which made all the difference in the end result. I never had the time (i.e. interest) in such fundamentals, but now I understand why all the classical instruction started there.
The small group enabled a huge amount of personalized instruction. The focus was on the figure and object of the sculpture rather than on the mechanics of stone carving which predominates in other workshops I have attended.
In addition, the small group enabled constructive socializing during the evenings with good food, robust conversations about art and other topics of interest to the group.
If you want to carve the figure, and have fun in the total experience, this is the workshop to attend."
General Workshop Information:
January 7, 2010
Greetings friends,

Please accept my apology for the group letter. I'd like put the word out about a new stone sculpture workshop that's in the planning stage and would very much appreciate your help.

Over the last few years a number of people have asked me about teaching sculpture at my studio in Galisteo, New Mexico. I'm looking at the possibility of creating either a 5 or 7-day workshop that would happen sometime during one of the months of April, May or August, 2010.

I will provide highly focused, individual instruction with an emphasis on realistic human figurative sculpture, as well as workspace, limestone carving blocks, generously donated by New Mexico Travertine, Inc.; carving tables, air and electricity for your tools. In order to keep the instructor/student-ratio small, the workshop will be limited to six students. The price of the workshop will depend on how many people attend. If all six spaces are filled, the cost would be $650 for a 5-day program and $850 for a 7-day program. If fewer than six people attend, the price per student will need to increase. These prices would not include food, lodging, transportaion or tools.

And for those of you who've either already attended or are planning to attend Rollie Grandbois' Southwest Stone Carving workshop in Jemez Springs: if you need to make a choice between these two workshops, I urge you to choose Rollie's. I have no intention for my workshop to take the place of his long-standing project but offer it only as another opportunity to learn.

If you are interested in attending the Galisteo workshop, please let me know if you have a preference for the time-span (five or seven days) or dates. I realize that not all of you are stone carvers, but if you know someone else who might be interested I'd be grateful if you could either let them know about this (my work can be viewed at: www.StoneHand.org) or forward their email address to me. If you have any questions, comments or suggestions, please let me know.

I look forward to hearing from you soon. Thank you for your time and attention.

Best regards,

Ted Fleming
Galisteo Stone Sculpture Workshop
5C La Otra Vanda
Galisteo, New Mexico, 87540
USA
505-466-2367<>efa@cybermesa.com<>www.StoneHand.org

General Schedule
Monday, May 17 through Sunday, May 23, 2010
> 8-9am: set up and preparation for the day (as needed)
> 9 -12noon: teaching; carving
> noon-1pm: break for lunch at the studio (bring lunch)
> 1-5pm: teaching; carving
> 5-6pm: continue carving if desired; cleanup
> evening: gathering as we like for libation; food and conversation

Workshop catered meals: Breakfast and Lunch menus:
BREAKFAST
EACH DAY A DIFFERENT SELECTION
MAKE YOUR OWN BREAKFAST BURRITO
scrambled eggs , bacon , salsa , cheese and tortillas you assemble with your choice of ingredients
CEREAL AND FRESH FRUIT BAR
granola , fresh fruit , yogurt , regular or soy milk
SMOKED FISH HASH
BUTTERMILK BISCUIT BREAKFAST SANDWICH
FRESH BAKED MUFFINS , SCONES AND COFFEE CAKE
LOCAL AND ORGANIC INGREDIENTS
LUNCHES WILL INCLUDE REGIONAL FAVORITES SUCH AS ENCHILADAS
SANDWICHES ON FRESH HOMEMADE BREAD
LOCAL ORGANIC SALAD GREENS
FRESH BAKED COOKIES , BROWNIES , COBBLERS AND PIES
FRESH FRUIT
GLUTEN FREE , DAIRY FREE AND VEGETARIAN CHOICES AVAILABLE .
COFFEE , WATER AND JUICES
Preparations:
Greetings, Artists,

Although you've most likely thought about most of this already, I wanted to suggest some things to remember for the workshop. So here is a list of what I can think of:
> All your carving tools.
> Safety equipment, especially eye and ear protection. If you're planning to carve by hand, you'll still want to protect yourself from other carvers' noise.
> Extra fittings for air connections.
> Air valves, regulators. Air pr4essure will be between 75 and 90 psi.
> Personal shade and sun-screen materials. With the wind exposure here, tents or tarps don't fair so well.
> Lunch, snacks (good well water available in studio).
> Personal items.

And a few thoughts about carving etiquette. We'll be working outside and not too distant from eachother. Please remember to be considerate of others and direct dust and chips away from everyone. If you like to work to music, please bring earphones/buds so as not to disturb others' concentration. Keep your tools, hoses, cables in such a way that others won't trip on them. And be extra careful with grinders and any power tools and keep them well out of the way when not in use. We all need to be conscious of safety and look out for eachother.

If you think of something I've missed, please "reply-all" so that we'll all get your comments. I'd be grateful for any thoughts you may have.

Thanks for your attention. I'm really looking forward to May.

Best regards,
Ted
Galisteo Stone Sculpture Workshop
5C La Otra Vanda
Galisteo, New Mexico, 87540
USA
505-466-2367<>efa@cybermesa.com<>www.StoneHand.org

RELEASE OF LIABILITY:
I, and my heirs, in consideration of my participation in the Galisteo Stone Sculpture Workshop, on May 17 through May 23, 2010, at Edward Fleming's studio in Galisteo, NM, hereby release The Galisteo Stone Sculpture Workshop, its organizers, instructors, volunteers, officers, employees and agents, and any other people connected with this event, including studio landlord, John Massee, from any and all liability for damage to or loss of personal property, sickness or injury from whatever source, legal entanglements, imprisonment, death, or any other negative consequence, which might occur as a result of participating in this event. I am aware of the risks of participation in The Galisteo Stone Sculpture Workshop. I hereby state that I am in sufficient physical condition to accept the level of physical activity necessary to participate in this workshop. I understand that participation in this workshop is strictly voluntary and state that I freely chose to participate. I am aware that I will be working in the presence of dangerous high speed rotating saws and grinders, other power tools and heavy stone blocks, and it will be my responsibility to take appropriate precautions to protect myself and others at the workshop. I understand that The Galisteo Stone Sculpture Workshop does not provide medical coverage for me. I verify that I will be responsible for any medical costs I incur as a result of my participation.
_________________________________________
(Participant Name, printed)
_________________________________________ __________
(Participant Signature) Date